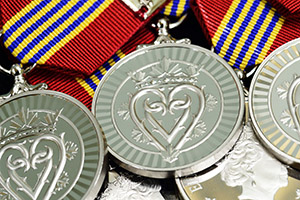 Lieutenant Governor Lakhani presented the Sovereign's Medal for Volunteers to 14 dedicated Albertans in a series of small group, individual and online ceremonies held in Edmonton and Calgary and via Zoom from November 9 to 24.  All COVID-19 protocols were strictly observed throughout.
The Sovereign's Medal for Volunteers is a national honour that recognized the tireless service and dedication of Canada's hardworking volunteers. Her Honour presented the medals of behalf of the Governor General of Canada.
"These inspiring citizens have freely shared their  energy, talent and enthusiasm with others because they believe in a brighter and stronger future. It's is my sincere pleasure to present them with this honour and to thank them for sharing their kind, forward-looking and hopeful spirits with us all." Her Honour, the Honourable Salma Lakhani, Lieutenant Governor of Alberta
The medal program is administered by the Chancellery of Honours and accepts public nominations. Program details
Congratulations to the recipients:
Patricia Cimmeck, Calgary, Alberta - As the coordinator and administrator of the Ostomy Youth Camp since 1992, Patricia Cimmeck has positively impacted the lives of hundreds of children with ostomies. She has also volunteered with the Ostomy Canada Society for more than 25 years, where she has served in numerous roles, including secretary, vice-president and president.
Pearl Dorey, Edmonton, Alberta - For more than a decade, Pearl Dorey has helped residents at the long-term care facility in her retirement home, Touchmark at Wedgewood. She attends group activities, accompanies staff on outings and helps ensure residents are comfortable, and well-cared-for.
Richard Dumas, Edmonton, Alberta - Richard Dumas has been contributing to the military community of Alberta for more than a decade. Through his work with the Loyal Edmonton Regiment Association and other veterans' organizations, he has ensured support for veterans and their families, and has educated Albertans on the province's military legacy.
Bobbi Foulds, Edson, Alberta - Since 2009, Bobbi Foulds has volunteered as a service officer with the Royal Canadian Legion Branch 51, where she currently helps veterans apply for benefits and receive emergency assistance. She is also a media officer with the Royal Canadian Legion Alberta-Northwest Territories Command, and locates unmarked veteran graves as part of the Last Post Fund.
Lisa Gausman, Calgary, Alberta - For the last 15 years, Lisa Gausman has served in a variety of roles with the Ostomy Canada Society, notably as senior editor of its magazine and as social media administrator. As an administrator of the Ostomy Youth Camp, she has helped ensure Canadian youth with ostomies  get to experience camp in a safe and accepting environment.
Mehul Gupta, Calgary, Alberta - A member of the youth councils of the Alberta Children's Hospital Foundation, the City of Calgary and Kids Help Phone, Mehul Gupta has become a leader in adolescent mental health awareness, particularly within minority communities. His fundraising initiatives in Calgary include helping to organize the annual Diversity Run and the BMO Walk so Kids Can Talk.
David Heins, Diamond City, Alberta - David Heins has been volunteering as a coach since 2009, instructing youth at various levels of both recreational soccer and competitive hockey. He was also a Bible studies leader for young adults and was active in planning an annual fundraiser for a local unit of the Society for Christian Education.
Monique Lavallée, Morinville, Alberta - Since 2001, Monique Lavallée has been volunteering with a number of organizations, including the Fédération du sport francophone de l'Alberta, where she has championed the involvement of Francophone youth in athletics. As the organization's team leader for one of the largest regions in the province, she organizes fundraisers and financial planning activities to help ensure that all children get an equal opportunity to participate.
Donna Leonard Robb, Calgary, Alberta - Donna Leonard Robb has been contributing to Girl Guides of Canada since 1978, and is noted for establishing a new set of risk management policies during her tenure as chief commissioner. She was also the executive director of the Famous 5 Foundation, and played a key role in creating the Future 5 Program, which encourages girls to become the next generation of women leaders.
Brian Lussier, Camrose, Alberta - A community volunteer since 2002, Brian Lussier has been helping with maintenance duties for a local children's day home program, ensuring they can provide the best possible care to participants. He has also served as a mentor and trainer with the 644 Royal Canadian Air Cadet Squadron and the 3068 South Alberta Light Horse Royal Canadian Army Cadet Corps.
Patrick O'Brien, High Prairie, Alberta - Patrick O'Brien has been serving the communities that he has been posted to as a member of the Canadian Armed Forces with a focus on youth, health and fitness, and safety and awareness. He has volunteered as a sports coach, with MADD Canada and he has provided security at various community events.
Sunjiv M. Raval, Calgary, Alberta - As a member of Gujarati Mandal of Calgary for over a decade, Sunjiv Raval has been helping new immigrants find employment, and has even offered accommodations in his own home to those in need. He also organizes inter-city cultural celebrations through the Mandal Radha Madhav Cultural Association of Calgary and helps with the maintenance of the community's temple.
Rand Richards, Whitecourt, Alberta - Over the past decade, Rand Richards has been organizing various events and fundraising activities to support people in her community who have been diagnosed with cancer. Her efforts have brought comfort to many patients and have helped alleviate the isolation many of them experience as they undergo treatment.
Tony Yee, Edmonton, Alberta - As a volunteer with the Canadian Red Cross for 45 years, Tony Yee has helped promote and instruct first aid and water safety, and has been actively involved in humanitarian aid during disaster relief operations. He also currently serves as an official with Athletics Alberta and as a board member with the Edmonton Chinatown Development Foundation.
For information, contact: Janet Resta, Communications Officer, 780-919-5505