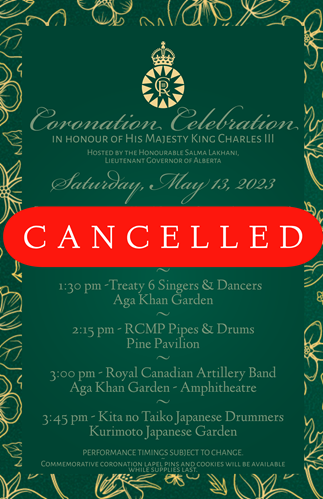 Updated May 9, 2023
May 13 Coronation Celebration at Botanic Garden Cancelled due to Ongoing Wildfires
The Coronation Celebration originally planned for Saturday, May 13 at the University of Alberta Botanic Garden has been cancelled due to the ongoing wildfire situation in the province.
"My thoughts and prayers are with all those who have lost their homes or been evacuated due to the fires. Although I was very much looking forward to welcoming everyone to celebrate His Majesty's Coronation on Saturday, we have decided to cancel the outdoor event, given the unpredictable nature of the fires and out of an abundance of caution. I hope to welcome everyone to a different event in the fall. To all affected by the fires, please take care and follow all emergency instructions and safety guidelines to protect yourself and others."
Her Honour, the Honourable Salma Lakhani, Lieutenant Governor of Alberta
Although the event is cancelled, U of A has informed us that free admission to the Garden will be honoured on May 13th.
The Office of the Lieutenant Governor plans to host an event in the fall that will feature free public admission to the garden and a special tribute to Albertans and His Majesty.