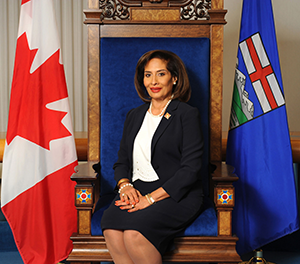 Here are some things to know about Alberta's Lieutenant Governor
Her Honour, the Honourable Salma Lakhani became Alberta's 19th Lieutenant Governor on August 26, 2020. She is Canada's first Muslim Lieutenant Governor as well as the first person of South Asian heritage and African birth to serve in the office.
Where did she grow up?
Salma Lakhani was born in Kampala, Uganda. She grew up in an Ismaili Muslim community where education and giving back to others were very important. She attended the Aga Khan School in Kampala and then studied Clinical Biochemistry at the University of Manchester in England.
What does it mean to be stateless?
Her life changed forever in 1972. She was visiting her family in Kampala during a break from university when Uganda's President announced that everyone like Salma and her family, who were of Asian heritage, had three months to leave the country. They had to give up their homes, their savings and most of their possessions. Salma was able to return to England, but she was stranded there with no money to pay for her university tuition. She no longer had a passport that would allow her to travel and she had no home county to stand up for her. Salma and her entire family were now stateless people.
What happened next? How did she come to Alberta?
The British government helped people like Salma and her future husband Zaheer, who was also from Kampala and studying at university in England. Their tuition was paid for and they were both able to graduate. They were able to come to Edmonton and the University of Alberta in 1977 so that Zaheer could complete his studies to become a cardiologist. They set down roots and became Canadian citizens. They had found a new home!
How did she become Lieutenant Governor?
Serving as Lieutenant Governor means that you represent the Crown and the King in the province. People are chosen by the Prime Minister's office to serve as Lieutenant Governor for a term of approximately five years. The Prime Minister looks for people who are hardworking and honest and who have been active and thoughtful community leaders. The job calls for someone who can stand up for all Albertans and make fair and impartial decisions if they need to. They also need to be welcoming and enjoy spending time meeting people from all walks of life.
Lieutenant Governor Lakhani was chosen because of the many years she spent as a volunteer and community leader. She has been especially dedicated to causes that help people who face barriers in life and need a helping hand to succeed. She worked as a volunteer with programs that give opportunities to everyone in the community. She is also committed to the idea of pluralism, which which is the belief in a world where people of different religious faiths live together in peace, harmony and understanding.
Education is another area where the Lieutenant Governor has volunteered because she believes it is the greatest gift any of us can receive in life. The things you learn stay with you always and allow you to achieve your dreams.
Want to learn more? Read her full biography.
To learn about the job of Lieutenant Governor check out the three main roles (constitutional, ceremonial and social).