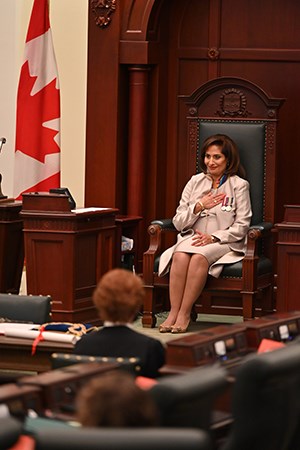 On Wednesday, August 26, 2020, Her Honour, the Honourable Salma Lakhani began her tenure as the Crown's representative in Alberta. The formal installation took place at the Alberta Legislature.
In her remarks during the ceremony, Lieutenant Governor Lakhani said, "Mine is the story of a person whose presence before you in this capacity today is made possible, even probable, by a single fact: that it happened in Canada. A place where the realization of unlikely stories occurs not by accident, but by design. While my story may sound unique, it is also the story of Alberta…a place where individual stories are woven into our collective tapestry…a province whose narrative is defined by the generations of stories of hope."
Elements of the installation program included a blessing by an Indigenous Elder, a military Salute, and administration of the oath of office by the Hon. Catherine Fraser, Chief Justice of Alberta. The Lieutenant Governor was also made the Chancellor and a member of the Alberta Order of Excellence and became a Dame of Justice of the Order of St. John.
View/download ceremony photos
View a video of the ceremony.
Her Honour is a community leader and volunteer who is guided by her deep commitment to the values of pluralism and inclusion and her dedication to championing those who face barriers in life. Born and raised in Kampala, Uganda, she came to Canada in 1977 as a stateless person after all Ugandans of Asian origin were expelled from that country. She is a proud Ismaili Muslim who has offered longstanding service to a range of organizations, including NorQuest College, the John Humphrey Centre for Peace and Human Rights, the Lois Hole Hospital for Women, the Aga Khan Foundation Canada, Kids Kottage, Sorrentino's Compassion House, the Alberta Cancer Board, and the Zebra Foundation. She also operated a business focused on early childhood education. Her Honour is married to distinguished Edmonton cardiologist, His Honour Dr. Zaheer Lakhani.
Read the Lieutenant Governor's full biography