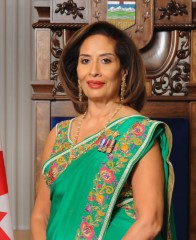 October is Islamic History Month, a time to mark important firsts in the story of our province and to honour Muslim Albertans whose contributions through the years have reflected the best of what it means to be an Albertan and a Canadian.
This month, we remember the first Muslim immigrants who lent their strength to the job of laying tracks for the CP railway, building grain elevators and working in sawmills to supply lumber for growing communities. We honour the visionary citizens behind the creation of Edmonton's Al Rahshid Mosque in 1938, the first in Canada.  We celebrate pioneers like Lila Fahlman, the educator and activist who was the first Muslim woman in Canada to serve on a public school board and a tireless proponent of pluralism and interfaith dialogue. We recognize early Muslim pioneers and fur traders like Ali Ahmed Abouchadi, who helped to build Canada's second Mosque, in Lac La Biche, and who was likely the first Muslim to speak Cree.  We also acknowledge Alberta leaders like Larry Shaben who became Canada's first Muslim cabinet minister and was a dedicated advocate for tolerance and understanding. These are just a few of the countless leaders who have shared their energy, determination and sterling citizenship with Alberta communities through the decades. 
While I may be Canada's first Muslim Lieutenant Governor, I am deeply aware of, and thankful for, the many other firsts that have made possible my own small chapter in the ongoing evolution of our collective history. I hope that this special month will encourage Albertans of all cultures, faiths and ethnicities to continue working together to break new ground for many more decades to come.
Her Honour, the Honourable Salma Lakhani AOE, B.Sc., Lieutenant Governor of Alberta