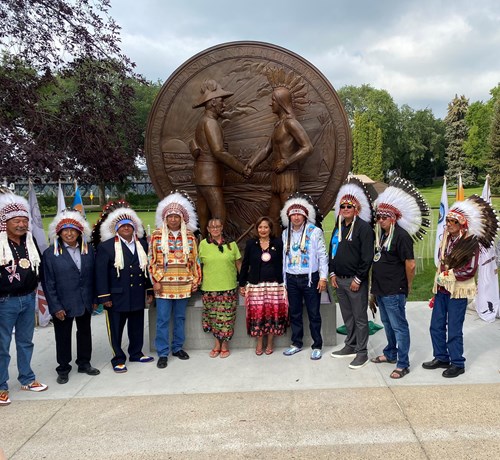 On the afternoon of August 21, 2022, I had the distinct pleasure to participate in the unveiling of the Treaty 6 monument on the grounds of the Alberta Legislature. The monument commemorates and celebrates adhesion to Treaty 6 near the very location where Chiefs and Crown representatives signed at Fort Edmonton on that date 145 years ago.
We are inexorably tied, not only by our history, but by the actions we take as individuals and as a society, to listen, to encourage positive change, and to build a better future for all.
Over a decade of meaningful collaboration by the Confederacy of Treaty 6 First Nations, the Government of Alberta, the City of Edmonton and dedicated stakeholders brought this historic moment to reality. Their collective respect and understanding is reflective of the meaningful paths we can each take in a determined walk through the journey of reconciliation.
Due to other grounds projects, the monument had to be removed though it has recently been reinstalled for perpetuity. I encourage everyone to visit the monument to witness its testament to the collective spirit of reconciliation, and the significant and lasting reminder of what Treaty means to all of us, who share this land and our mutual prosperity for as long as the sun shines and the grass grows.
As His Majesty the King's representative in Alberta, I offer heartfelt thanks and gratitude to all those involved in bringing this historic project to realization.
Her Honour, the Honourable Salma Lakhani AOE, BSc, LLD (hon)
Lieutenant Governor of Alberta
June 21, 2023