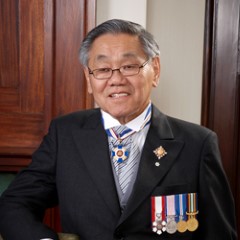 The Honourable Norman L. Kwong of Calgary was installed as Alberta's 16th Lieutenant Governor on January 20th, 2005, becoming the first person of Chinese heritage to hold the position in Alberta. He served as Lieutenant Governor until May 2010. He passed away in Calgary on September 3, 2016.
During his time in office, Lieutenant Governor Kwong brought a particular focus on sport, promoting active communities and programs for seniors. Other highlights of his tenure include presiding over Alberta's 2005 centennial celebrations, which included welcoming Her Majesty Queen Elizabeth II and the Duke of Edinburgh for a Royal Tour.
One of six children, Mr. Kwong was born in Calgary to Chinese immigrants Charles and Lily Kwong. He completed his secondary schooling at Western Canada High School where he discovered his talent for football. In 1948, at the age of 18, he joined the Calgary Stampeders Football Club as a halfback. That year, he became the first Chinese Canadian to play in the Canadian Football League (CFL) and the youngest to win a Grey Cup.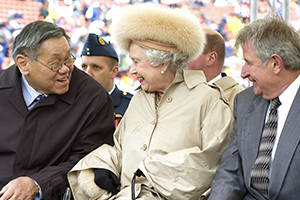 Lieutenant Governor Kwong, Her Majesty Queen Elizabeth II and Premier Ralph Klein at Commonwealth Stadium, Edm, May 2005
After three years with the Stampeders Mr. Kwong was traded to the Edmonton Eskimos, where he spent 10 years and won three more Grey Cup championships. He was chosen to receive the "All-Canadian Fullback" award five times and won the Schenley Award as the Most Outstanding Canadian in 1955 and 1956. In 1955 he was also selected as Canada's Outstanding Male Athlete of the Year. By the time of his retirement in 1960, Mr Kwong held over 30 CFL records. He is a member of the Canada Sports Hall of Fame, the Canadian Football Hall of Fame, the Alberta Sports Hall of Fame and the Edmonton Sports Hall of Fame. Upon his retirement from the CFL, Mr. Kwong moved to the private sector and spent the next few decades in sales, mainly in commercial real estate.  He eventually became Vice President and General Manager of Torode Realty.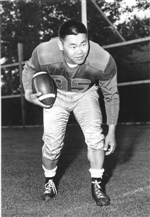 Norman Kwong (circa 1950)
From 1988 to 1991 Mr. Kwong served as President and General Manager of the Calgary Stampeders. He was also co-owner of the National Hockey League's Calgary Flames from 1980 to 1994, during which time the Flames won the Stanley Cup Championship (1989).  He is among only a few Canadians to have won both the Grey Cup and the Stanley Cup as a player, manager or owner. As a popular dinner speaker and Master of Ceremonies, Mr. Kwong  supported numerous non-profit organizations across the nation from Vancouver to Halifax. He served as  National Chairman of the Canadian Consultative Council on Multiculturalism (1979-1980) and as Honorary Chairman of the Easter Seal Campaign in Calgary (1982-1984).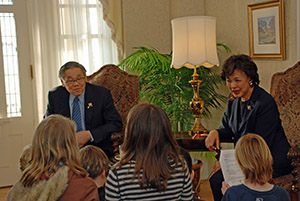 The Kwongs host Edmonton school children at a 2009 Flag Day event at Government House
Mr. Kwong was named a Member of the Order of Canada in 1998. In May, 2005 The Queen appointed him Knight of the Order of St. John of Jerusalem. In June, 2006 he received a Honourary Doctorate of Laws from the University of Alberta. The Canadian Embassy in Beijing dedicated their gymnasium to Mr. Kwong in recognition of his tremendous contributions to Canadian football and to sportsmanship. In appreciation of his participation in bringing the Flames Hockey Team to Calgary, donors endowed the "Normie Kwong Bursary" in Medicine at the University of Calgary which is given annually to a student in financial need.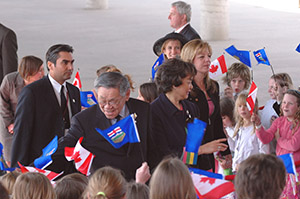 The Kwongs arrive at the Calgary Saddledome for an event during the Queen's 2005 Alberta tour.
Norman Kwong and his wife, Mary, were married in 1960. The Kwong family includes their four sons: Greg, Brad, Marty and Randy, their daughters-in-law and 10 grandchildren.